Boards
Range
Professional
and fun
The CNC Progressive Rocker Concept™
The 2011 line is our ultimate progression in CNC shape and design, with individual rockers tailored for each size and model. This concept creates the most control and quickest reaction on the smaller sized boards, and juices up the larger sizes with all the speed, early planning and power you need for the lighter winds and larger sails.
The bottom shapes of our entire range seamlessly blend panel V with concaves to 1/10th of a millimeter accuracy- combining the ultimate speed and control.
Our Compact Outlines & Volume distribution are precisely foiled in our shaping program. This brings a consistent and smooth flow to our shapes. This smooth flow allows you to feel naturally balanced from the moment you step on to any of our boards.
Along with the stance geometry, the fin and the rig inserts are individually tuned for the needs of each size and model, and each board includes easy to follow setting indicators to help you fine tune your equipment for maximum performance and comfort.
2010 Constructions
Light-weight and durable construction is what we are after, and we just keep on fine tuning it year after year. Our lay-up system is customized for each size and model and also according to the needs of each section of the board. For example a 68 liter board is built stronger than a 102 liter board, not only because the 102 it will be used in lighter conditions, but also because the 102 is about 2cm thicker, making the core of the board much stronger. Pick up our boards from the front strap and you will feel the weight difference from nose to tail. In all our boards the foot strap & landing areas are built stronger and then we gradually reduce the lay-ups towards the front, giving that super light nose feeling and that reduces the swing motion of the board.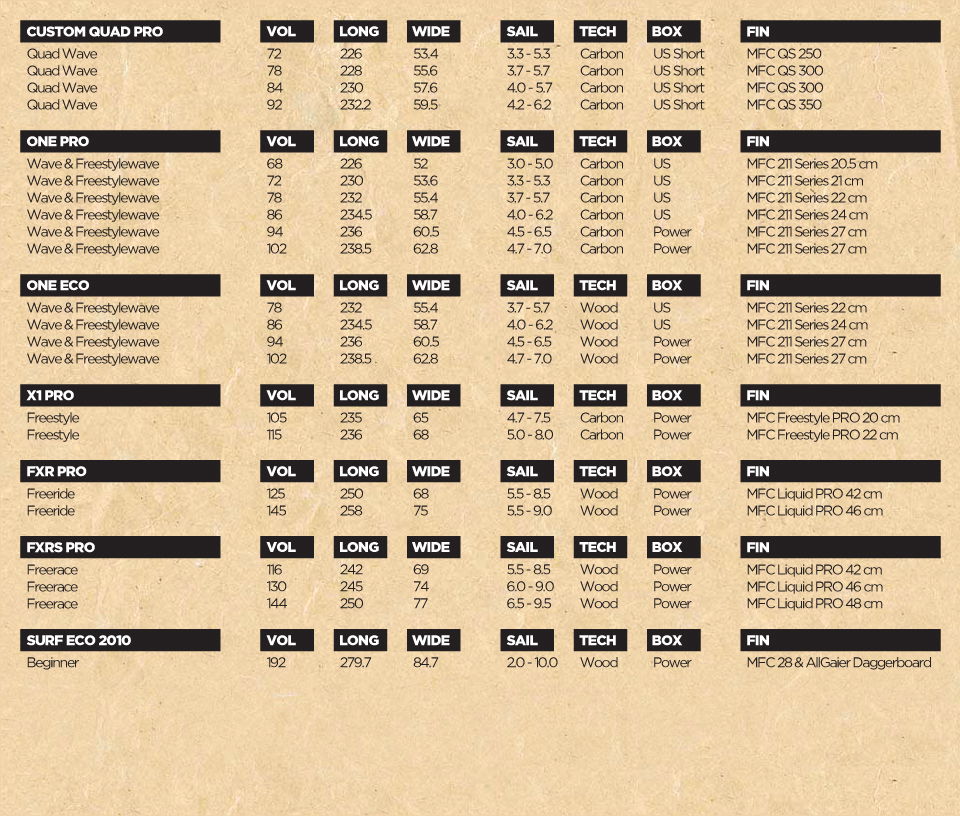 Boards
Features
THE CLASSICS
THE IMPROVEMENTS
Find out what makes our products stand out beyond the lean shape, cut or proportions. Why do they turn better? Why are they more forgiving? Why are they lighter? Why do they look better? Learn more >