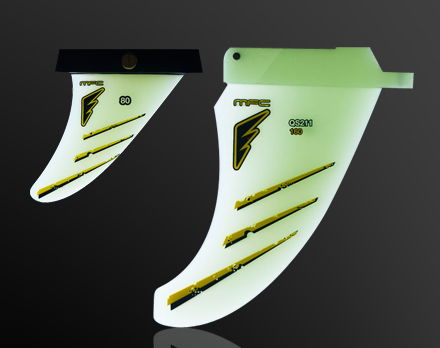 MFC QS 211
COMES WITH
CUSTOM
MFC, in conjunction with Kauli Seadi and Keith Teboul, developed the new Quad set up for wave boards. It was always in our minds to seek something that could be approachable for the everyday sailor, and it looks like we reached our target with the QUAD fins set-up. The board has drive. The different foil sections on the center and side fins drastically reduce the drag, which make upwind performances superior. This in turn makes riding waves easier for everyone. The board feels looser yet drives harder at the same time without compromising speed. It makes wave riding more forgiving. The board can be pushed with the front or back foot and the board and fins will continue to hold your style. We do not choose Quad fins looking at the size/length, but at the surface area we are using.
Available for US Box and Minituttle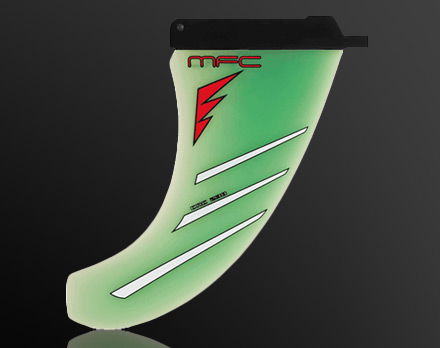 MFC Goya 211
COMES WITH
ONE
This fin offers a new concept in fin design developed by MFC and Francisco Goya. The material chosen is G-10. The fins are CNC designed and machined by a high precision milling machine. The profile is an evolution of the 2008 model with the maximum draft position moved to 38% due to a thickness increase. In fact this year we had to increase the profile thickness by 0.7mm to allow the G-10 to work in the best way for the best performances in wave riding maneuvers, early planning and upwind performance. This particular model has a unique and distinguished concept where in the bigger sizes the fin becomes straighter in the outline and rake and faster in the profile.
Available for US Box and Powerbox
Sizes from 20,5cm to 31cm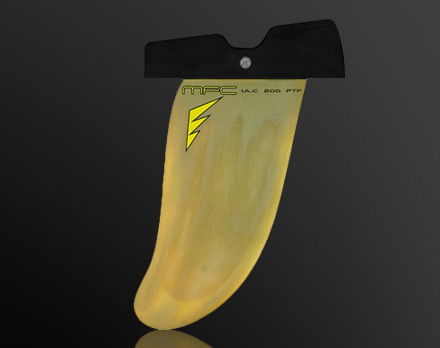 Freestyle Pro UL
COMES WITH
AIR
New construction, new outline, new sizes going as small as 16cm, this is the new MFC FREEESTYLE PRO UL. The outline has a narrow cord and the surface is very small allowing your board to perform all the new double moves on tour. The prepreg construction makes for a very light fin compared to the rest of the materials on the market; this will keep the tail of your board very light under your feet and easy to lift for your freestyle moves. The fin focus is Freestyle.
Available for Powerbox
Sizes from 16cm to 22cm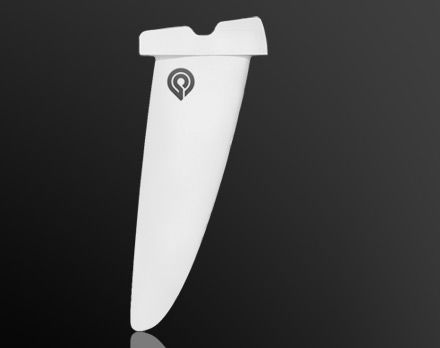 Goya Surf
COMES WITH
SURF
The Goya Surf comes with its own fin that is specifically tailord to work at its best with the Allgaier® dagger board in supplying supreme stability and ease of use for all beginner and fun applications. Should a more dynamic board be aspired, this fin can of course easily be replaced with any Powerbox fin. We recommend using performance fins by MFC. www.mauifin.com
Available for Powerbox
Fixed size 34cm