The
Range
PROFESSIONAL
AND FUN
Welcome to an exciting new year! Sometimes it seems that we've always been doing this well, but when I look back it's only a few years ago that Goya started. I believe what makes it feel like this is the people who make up this brand- they have all have been focusing their lifetime around the sport. First it was my brother Lalo, then Josh Stone, Jason Prior, then Jason Diffin, Keith Teboul and lately Levi Siver. The frequency of new events in the company seems to be getting faster and faster, increasing the momentum. It makes me understand that what this community of people is creating is a lot more than I could have ever imagined. Welcome to our new creations, the product of our experiences and yours. Have a great day and Go Ride!
Francisco Goya
Performance
Performance Innovation and Quality are the fundamentals of GOYA design. The 2010 Goya Sails are the product of a passion for windsurfing shared by the entire Goya team. We love to windsurf, and we love to progress as sailors- the evolving Goya products are the result of this motivation. Goya is a rider driven company- the proof is in the product.
Stretch Control
All Goya Sails feature the Stretch Control System. The system was created by designer Jason Diffin, and has been time tested and proven to massively increase the range of any sail size by locking the draft of the sail in place, and maintaining the smooth flexible feeling of the sail as the wind strength changes.
Center Cut Batten Pockets
All Goya Sails also feature center cut batten pockets, which means that the batten is always in the exact center of the sail body layers- this is a stronger, lighter, more symmetrical solution than traditional batten pockets.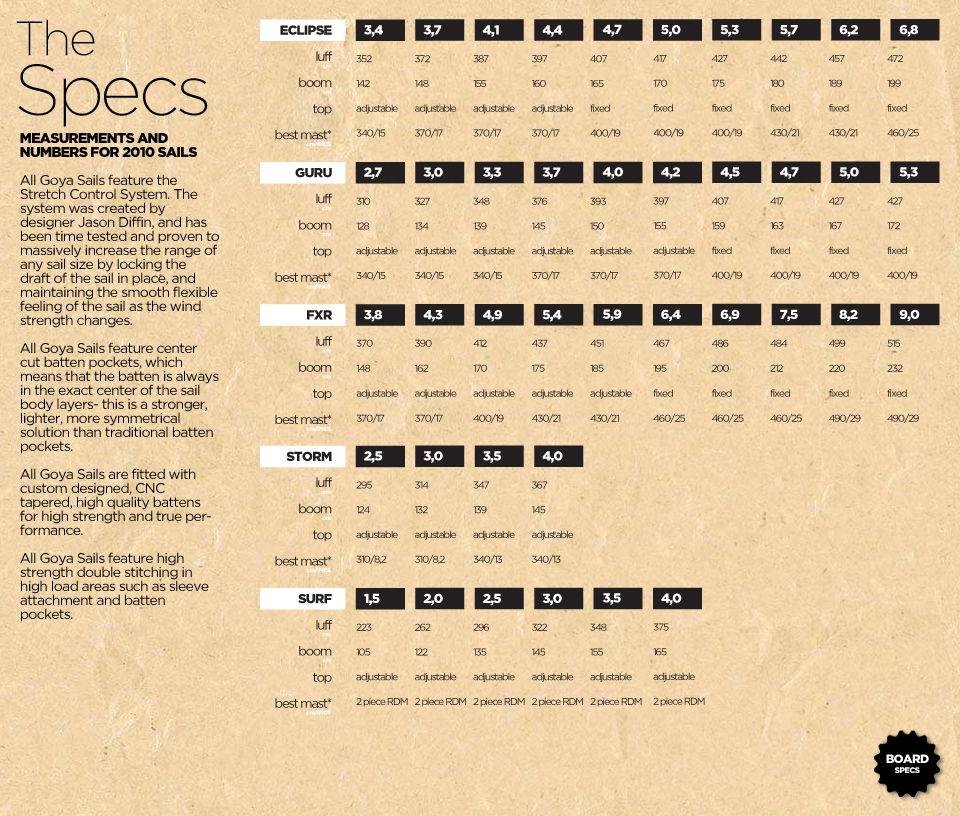 New
Tack Fairing
MORE PROTECTION
MORE STYLE
The new integrated tack fairing on all 2010 Goya sails makes it very convenient to rig your sail, while it supplies excellent cushion and abrasion protection. The array shaped grooves make it easy to fold the fairing up while praparing your downhaul. Learn more >