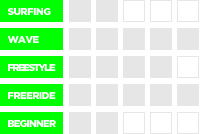 Wave &
Ride
Size Available
72 | 78 | 86 | 94 | 104 | 116 | 130 | 144
If you are looking for one board that can do it all, look no further. The One is fast, turny, easy to ride, for all styles and all conditions. Welcome to a real one board concept. Just pick your volume and go windsurfing. Done. The ONE combines the best features of all board lines we have yet been producing, and merges them into what is now becoming an instant favorite among riders and testers.
The One PRO 72 and 78 liter models feature generous carbon patching from in front of the mast track all the way into the tail, as well as beneath and around the padded areas.
AS IF THAT WASN'T ENOUGH, THE 72, 78 AND 86 MODELS NOW COME AS THRUSTERS, GIVING YOU MORE CONTROL IN SURFING TURNS WHILE MAINTAINING THE FORWARD DRIVE OF A SINGLE FIN DESIGN. THE BEST OF BOTH WORLDS.
The One 72 has a concave into double concave shape for added control and grip. The One 78 offers more lift and power and therefore transitions from a V into a double Concave. All succeeding boards carry a V bottom with double concaves through the stance. V bottoms are the fastests bottoms, and the double concave accentuate the centerline, softening the ride and making it more comfortable while adding crispy grip and drive to the turns.
The smaller sizes 72, 78 and 86 feature a center US Box compatible with all wave fin designs and the larger sizes 94, 104, 116, 130 and 144 feature a Power Box for increased speed, strength and compatibility with larger fins.