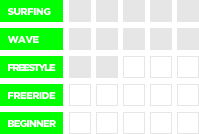 Quad
Wave
Size Available
68 | 72 | 78 | 84 | 92 | 104
The new CUSTOM Quads bring dedicated surfing experience into wavesailing, with a wider wind range, more drive, added upwind and all around faster riding. From hard core down the line conditions to onshore chop, these boards are built to go beyond what you though it was possible.
The Goya Quad concept allows you to increase the volume of the board about 5 liters above what you would normally ride, with absolutely no loss of control in the high end. The result is a board with a massively expanded wind range- that extra volume will keep you moving through lulls that a lower volume board might slow down in.
The Custom PRO features generous carbon patching from in front of the mast track all the way into the tail, as well as beneath and around the padded areas.
The 2012 Range of the Custom is seriously extended in both directions small and large, by adding a 68 liter high wind board that will suit smaller riders like a magic glove, and by a whopping 104 liter model that redefines how we will approach light wind days. Imagine taking all of it's agility and volume into one of those days where waves are beyond mast high, but winds used to only allow you to reach for non-bottom-turnable Freerides, Freestyles or even SUPs in the past. Now your epic Quad light wind match is here. Go for it.