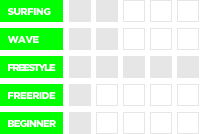 Free-
Style
Size Available
105 | 115
This is not any regular board- it is an Airborne board, exclusively designed for the next generation of freestyle moves. Who said flatwater was boring anyway – when you hardly ever touch it? The air is yours!
Jay Lee: "From the moment I jump on these boards I was naturally drawn into going for moves, shakas, spocks and flakas. With their added glide and speed they got turned into double and triple spinning, they are just that easy and radical at the same time."
The short shape combines extreme power and pop for air moves while still keeping the full rail carving capabilities.
The rocker with a longer flat section comes close to our FreeRace line, focusing on early planning and top end speed. The gradual nose rocker also been reduced for control and easiness while switching from tail to nose glides.
The design also features an increased tail volume and bevel for reverse sliding tricks as well as an extended flat section on the front of the deck of the board for a quicker reaction on the moves.
Features
Gradual curved deck under the foot strap area and customized Freestyle insert positions with double screws on the back strap.