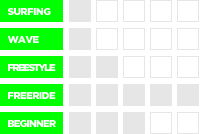 Free-
Ride
Size Available
125 | 145
A lively and fast freeride board with a compact and stable design that gets planing on the lightest breeze and flies effortlessly through the wind lulls. A comfortable Freeride board that you still can enjoy on choppy waters stronger winds.
Francisco Goya: "When I go freeriding up and down the coast here on Maui, at the Gorge or on the River in Buenos Aires I just want to ride comfortably and be able to relax, I know I will be on the board for a few hours and I just want to enjoy it, this is the board I choose for those days"
The CNC fine tuned rockers keep the board gliding with the minimum wetted surface area. On the jibes the more compact design helps the FXR turn with ease and finishing the transitions with speed. In a straight line, these boards are extremely fast. The curved deck under the foot strap area provides an incredibly smooth and comfortable ride in all conditions.
With the foot straps settled to the inner position, the FXR maneuvers and transitions easily. In this position, the straps are also in the ideal configuration for first time foot straps users making getting in the straps easy and fun. With the "further out into the rail" foot straps position the more advanced rider can trim the windward rail with more control, maximizing rail and fin lift, increasing the speed of the board and upwind performance.
As the magazines tests write it, it is "the modern freeride board that you still want to sail when the wind picks up"
Special Feature
The new deck pads combine better traction and padding for hours of riding comfort.