Free


Ride
Size Available

4.3 | 4.9 | 5.4 | 5.9 | 6.4 | 6.9 | 7.5 | 8.2 | 9.0
Jason's words: "The new Nexus comes with lavish scrim body panels and carbon stretch control tendons. This upgrades the new Nexus to embody the best materials available, delivering uncompromised freeride and freerace performance. The new Nexus is significantly lighter, stronger and faster. You can expect magnetic low end power, easy handling with a massive high wind range and unlimited speed potential in any flatwater to bump and jump condition. The Nexus is all about simple speed. This sail has no cambers, making rigging a dream. The scrim body panels provide a quiet, supple ride. The smaller 6 batten sizes are cut for maneuvers then speed, while the larger 7 batten sails are cut for speed then maneuvers."
The Construction
This sail comes in PRO Construction. Our most advanced sail construction combines light weight and excellent durability by blending the latest in scrim film technology and durable X-Ply. These premium sails are equipped with Carbon Stretch Control™ tendons, the Poly Clew™ angled outhaul system and Kevlar® Real Frame™ panels.
Colors
This sail is available in the following color combinations: BLUE & ORANGE, GREEN & BLUE
Scrim
This sail uses unique Goya Scrim, a super light alternative to regular materials, in extensive areas of the sails surface.
Kevlar ®
The perimeter of this sail is reinforced with Kevlar X-Ply, creating a highty tear resistant framework.
Reduced Head
This sail features the Goya trademark reduced head leech outline. The Reduced Head works as if you were adding 5mm of tail rocker to your board, making it easier to go around tight corners. Further it reduces head "wag" and makes the sail much quieter in the hands, which increases your comfort and control, meaning more time for you on the water.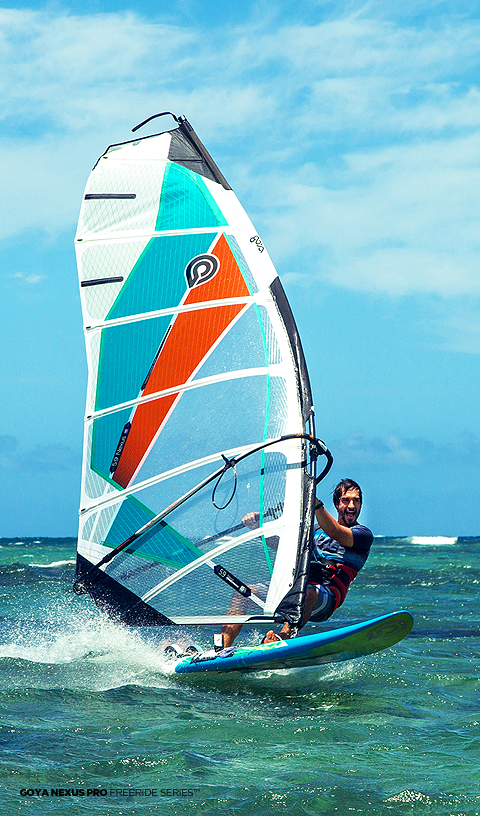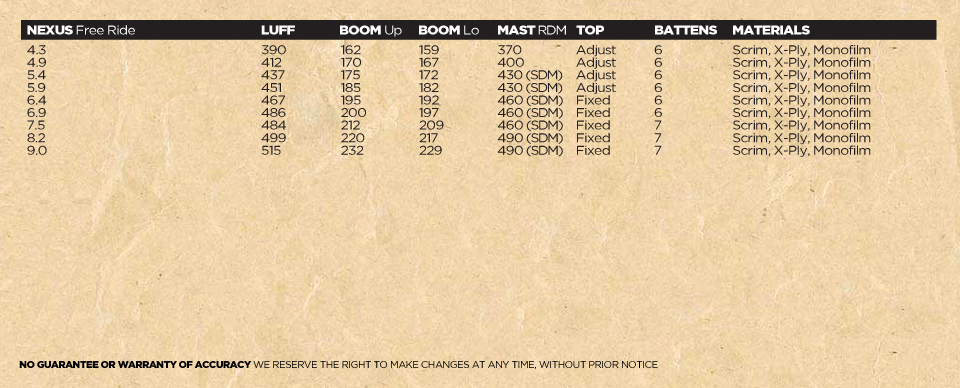 Nexus
SKU
UPC
Model
David Maller
, Spain
Jul 22, 2014
Nexus 7'5, genial! Dependiendo de los ajustes la vela tiene un rango enorme y es siempre cómoda en las manos. El manejo es como una vela de olas grande pero con las prestaciones de las mejores freerace. Me encanta, ahora quiero la 6'4....

Nexus 7'5' great! The different rigging options give the sail a huge range. Always comfortable, the handling is like a big wave sail but with the performance of the best freerace. I love it, now I want the 6'4...

Beautiful construction. Rigged perfectly on my Fiberspar 4200 SDM the first time according to the rigging guides on the sail. I purchased this sail to get a more maneuverable sail compared to the 7.5M 2 cam sail I have for flat water. This sail is very flickable for maneuvers but has good low end for getting onto the plane and is very stable lit up. Gives better acceleration than I was expecting in this size. Excellent so far.

Eduardo Matas
, Spain
May 15, 2014
Toda una sorpresa la Nexus 8,2 , No confiaba en una marca más dedicada a velas pequeñas y habíendo tenido otras marcas , al probar la Nexus me quedé impresionado ,. Se siente ligerísima y parece que llevas una medida mucho más pequeña. , buena combinación de freeride / Speed , otras marcas están más orientadas al Speed sacrificando el freeride.
Recientemente la he comprado también en 6,9.
Todo un acierto

Quite a surprise the Nexus 8.2, did not trust a brand more dedicated to small sails and having had other brands to test the Nexus was impressed,. It feels very light and seems to take a much smaller extent. , Good combination of freeride / Speed??, other brands are more oriented freeride Speed ??sacrificing you.
I also recently bought 6.9.
All a success