Control Quad


Wave
Size Available

2.7 | 3.0 | 3.2 | 3.5 | 3.7 | 4.0 | 4.2 | 4.5 | 4.7 | 5.0 | 5.3 | 5.7
Jason's words: "Some people prefer a sail with a little softer "clutch" feeling in to power engagement. The latest version of the very popular Guru model, the Guru G4 features that effortless and comfortable handling that is the Guru legacy. A PVC window surrounded by X-ply gives the Guru G4 that sensation compared to a pure monofilm sail which tends to deliver the power more explosively. The new Guru G4 comes in a lighter 4 batten layout with smooth power delivery and great low end torque throughout all sizes, all easily neutralized. New sizes of 3.2 and 3.5 squaremeters have been added. The Guru lends itself to be used in all wave and wave style sailing conditions, from down the line waves to onshore waves and free wave style saling. The PVC window provides life long clarity. The Guru G4's softer power engagement means that the sail feels forgiving in gusts, and less fatiguing because of the smoother ride. Sailors of smaller stature, both female and male tend to like this, as well as sailors of any size who sail in rough conditions where comfort and control in strong winds, and the ability to throw some aggressive airtime is the focus of their session. Extremely durable construction. Well suited to multi fin boards."
The Construction
This sail comes in PRO Construction. Our most advanced sail construction combines light weight and excellent durability by blending the latest in scrim film technology and durable X-Ply. These premium sails are equipped with Carbon Stretch Control™ tendons, the Poly Clew™ angled outhaul system and Kevlar® Real Frame™ panels.
Colors
This sail is available in the following color combinations: BLUE & ORANGE, GREEN & BLUE, ORANGE & RED, WHITE
Scrim
This sail uses unique Goya Scrim, a super light alternative to regular materials, in extensive areas of the sails surface.
Kevlar ®
The perimeter of this sail is reinforced with Kevlar X-Ply, creating a highty tear resistant framework.
Reduced Head
This sail features the Goya trademark reduced head leech outline. The Reduced Head works as if you were adding 5mm of tail rocker to your board, making it easier to go around tight corners. Further it reduces head "wag" and makes the sail much quieter in the hands, which increases your comfort and control, meaning more time for you on the water.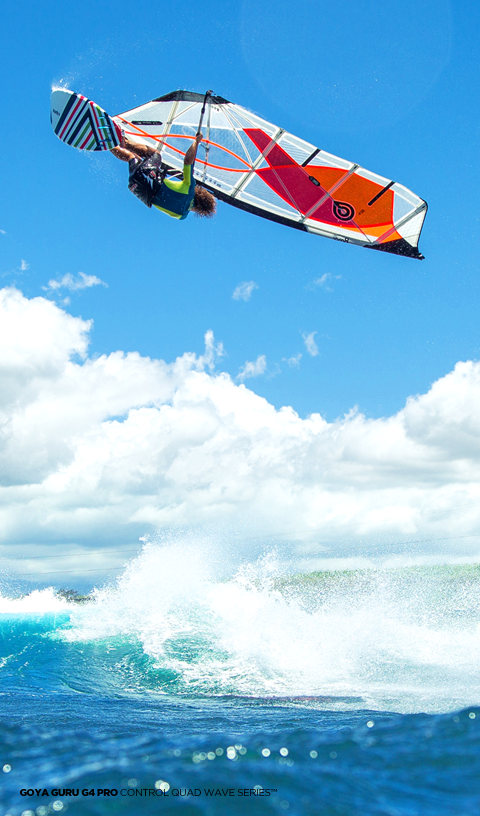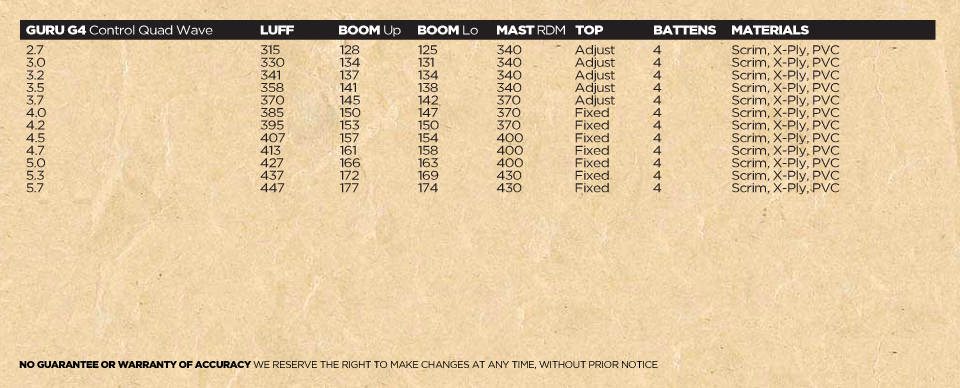 Guru G4
SKU
UPC
Model
Fantastic sails, I'm on the 2013 Eclipse (i think) and find them a very well balanced sail, super strong and age very well. Did have some clue issues but it was a small repair and now they are as good as new again.... Will definitely by replacing with Goya if these ever wear out.
The 78 Quad is also a fantasic allrounder but it can get a bit hard to turn in solid 4m weather but that the price you pay for using the same board with a 5.7... Closest thing to a one board does all yet for me.

Pascal,

I just wanted to thank you for the awesome service! I just unrolled the best looking sail I've ever owned and can't wait to start shredding hard on this new bad boy in a few months.
It's a Goya, so I know I'm gonna love it just like the other Goya sails I have!
You guys rock hard!

Mahalo!

Brian

Frank
, Germany-Mauritius
Nov 07, 2013
Hi Jason,

thanks Jason for your feedback.
This weekend I was able to test G4 5,7 in over out- and downhaule mode (even more than I tried in Mauritius) and I have to say - yes, you are right again, this definitely enlarges the upper sail range and I could go further than I expected with over-hauling. With that feature in addition to the highly increased windrange in low-wind use, the trim range of G4 might even be enlaged in comparison to G5.

By the way... great success of your guys at thw AWT. Hope this will contiune in the PWA event 🙂
Have you seen the GOYA promo video, that the PWA has published at their website?

Frank
, Germany
Oct 15, 2013
In love with the new Quad 78 now after using it 18 days in a row in sometimes mindblowing good Wave conditions. The very precise Handling on clean waves is insane. And also the Explosive acceleration in combination with G4 seems to work perfectly.