Power


Wave
Size Available

3.4 | 3.7 | 4.0 | 4.2 | 4.5 | 4.7 | 5.0 | 5.3 | 5.7 | 6.2 | 6.8
Jason's words: "Lighter and easier high wind handling in sizes up to 5.0. Sizes 5.3 and larger put an emphasis on quick stable power alongside easy handling. The Eclipse has great low end power, a massive high wind range plus unlimited speed potential. 5 battens make the Eclipse a very stable sail with easy handling when very powered up. All wave and wave style sailing conditions suit the Eclipse just as well as freewave and freestyle sailing. The Eclipse gives stability and range, along with a highy durable construction. Well suited to single fin and multi fin boards."
The Construction
This sail comes in PRO Construction. Our most advanced sail construction combines light weight and excellent durability by blending the latest in scrim film technology and durable X-Ply. These premium sails are equipped with Carbon Stretch Control™ tendons, the Poly Clew™ angled outhaul system and Kevlar® Real Frame™ panels.
Colors
This sail is available in the following color combinations: BLUE & ORANGE, GREEN & BLUE, ORANGE & RED, WHITE
Scrim
This sail uses unique Goya Scrim, a super light alternative to regular materials, in extensive areas of the sails surface.
Kevlar ®
The perimeter of this sail is reinforced with Kevlar X-Ply, creating a highty tear resistant framework.
Reduced Head
This sail features the Goya trademark reduced head leech outline. The Reduced Head works as if you were adding 5mm of tail rocker to your board, making it easier to go around tight corners. Further it reduces head "wag" and makes the sail much quieter in the hands, which increases your comfort and control, meaning more time for you on the water.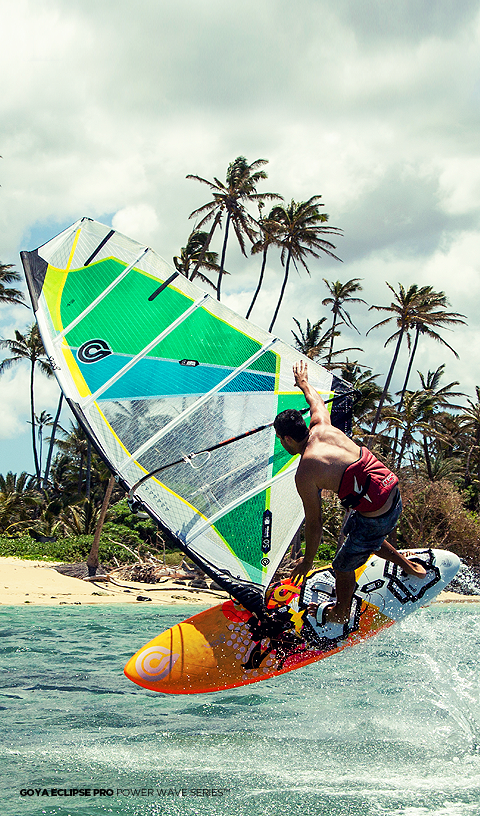 Eclipse
SKU
UPC
Model
Dave
, Canada
Sep 11, 2014
Looked windy when we arrived after noon. Decided to try the Goya Eclipse 5.7 since a friend kindly loned it to me for demo. Not the right sail size for our quiver at the moment but always wanted to try the Goyas. Easy to rig and well balanced on the water. Set it up for medium conditions and was surprised at the power this sail generates. The first hour was really light but I managed to plane a lot more than I thought I would. The wind kicked up a bit around 5:00 and I was nicely powered enough to make some duck jibes. Kinda cloudy afternoon and evening but still warm.

Juan Maria
, SPAIN
May 08, 2014
Enhorabuena por tus velas! Son las mejores que existen!
Saludos y buen viento! JMM

Keep up the great work Jason.! Loved your x-flex sails; the Eclipse is a perfect evolution of the design (or at least that's this sailors take on it). Light and almost punchy for the on-shore s#!t I sail, yet smooth and neutral when dialed. Damn nice sail, thanks.

Pablo
, France
Nov 07, 2013
Hola Francisco,

Al final pude estrenar el equipo este pasado Domingo, en Ouistreham (Francia).
Es el spot que me queda mas cerca de Paris, a 2 horas 30 min en coche, y viendo que las condiciones de viento eran buenas no pude evitar la tentación J
Genial, disfrute de lo lindo con la tabla 116 y la vela 5,7 Eclipse, las mismas sensaciones que tuve en Hawaii!
Un abrazo, aloha, gracias por todo lo que haceis por este maravilloso deporte,

Pablo.