Power Quad


Wave
Size Available

3.4 | 3.7 | 4.0 | 4.2 | 4.5 | 4.7 | 5.0 | 5.3 | 5.5 | 5.7
Jason's words: "This new Banzai is lighter, more flexible and has a better forward feeling in the hands, plus it offers better high wind control in all sizes. A new size of 5.5 has been added. The Banzai has explosive low end power and a very direct feel. All wave and wave style sailing conditions are a blast with this sail, from down the line waves to onshore waves and freewave sailing. The Banzai is a top level progressive performance sail delivering ultimate power waveriding and jumping. Very well suited to mulit fin boards."
Brawzinho adds: "I have been riding the Banzai a lot flatter at Hookipa, which helps to de-power, but it still holds a shape and drive forward when the strong gusts hit. For on-shore conditions I have been riding it more full with amazing power and early planing. This sail is very easy to move from one side to the other, backside to frontside."
The Construction
This sail comes in PRO Construction. Our most advanced sail construction combines light weight and excellent durability by blending the latest in scrim film technology and durable X-Ply. These premium sails are equipped with Carbon Stretch Control™ tendons, the Poly Clew™ angled outhaul system and Kevlar® Real Frame™ panels.
Colors
This sail is available in the following color combinations: BLUE & ORANGE, GREEN & BLUE MB EDITION, ORANGE & RED, WHITE
Scrim
This sail uses unique Goya Scrim, a super light alternative to regular materials, in extensive areas of the sails surface.
Kevlar ®
The perimeter of this sail is reinforced with Kevlar X-Ply, creating a highty tear resistant framework.
Reduced Head
This sail features the Goya trademark reduced head leech outline. The Reduced Head works as if you were adding 5mm of tail rocker to your board, making it easier to go around tight corners. Further it reduces head "wag" and makes the sail much quieter in the hands, which increases your comfort and control, meaning more time for you on the water.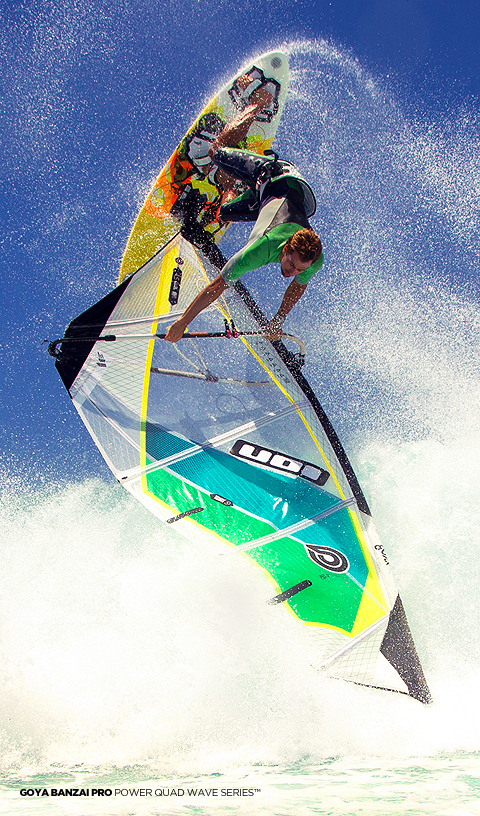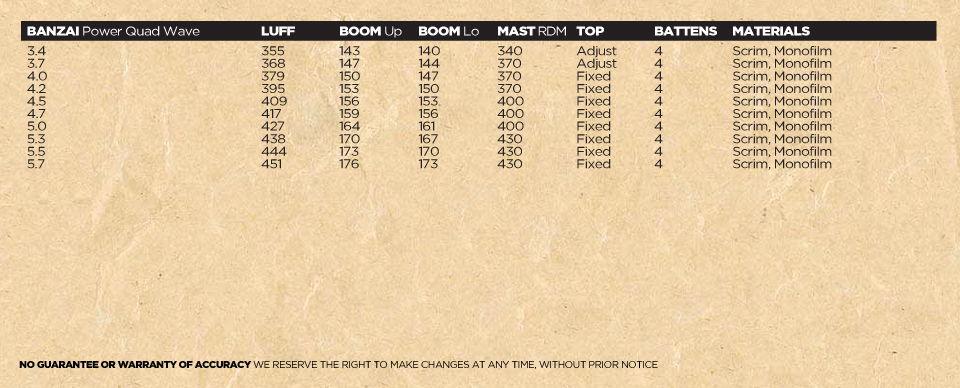 Banzai
SKU
UPC
Model
amit
, Israel
Jul 24, 2014
How mach the sails 2013 yelow end bleu

amit
, Israel
Jul 24, 2014
How mach the sails 2013 yelow end bleu

thanks pascal!
I am so stoked I got to try and test the 5.0 Fringe, It was a real eye opener. Every time you guys come out with a new product I am first always a little hesitant and then when I try it, it is each and every time mind blowing. This started with the first Twin fins, then the Quads, then the Banzais, then the Thrusters, then the 211 Booms, and now the Fringe. Every single time I use the new stuff it is a total OMG, this is insane. I wonder why I am hesitant at first... I should know by now. Arnie

Yeah Jason these banzai sails go to neutral real easy when doing freestyle moves and power up fast for planing conditions real happy with my new sails.

David.

We have had the best 3 days sailing in years with over 30 kts and between logo to mast high with proper breaking sets (very unusual for us). I had the 4.2 up in gusts of well over 40kts and all good, I had adjusted my rigging technique in line with your comments and am very happy. The ability to depower has radically improved my ability to wave ride and all my mates have commented, I suspect an increase in Goya sales from the south coast in the near future!!! I am looking at the new board as we speak (Quatro Sphere Thruster 82L is looking likely). However, wife was not best pleased with impromptu sail purchase so trying to keep costs down!

They always say if you want to improve buy new kit. My wave riding has improved massively, I landed my first forward in several years yesterday, almost landed my first ever back loop but was so surprised to be stood on the board I fell onto the sail!!! and attempted my first ever wave 360. Absolutely loving my sport...again wife and kids not best pleased!!!!

Tack fairing has softened already, roll sail tighter noted!!

Loved being in Maui, a very special place and made all the better by the amazing people we met; thanks again.

Gareth

Lars
, Denmark
Oct 04, 2013
Hello Jason.

Just had my first sail with Banzai 2014.

Stoked as usual.

Last year I believed Banzai 2013 was the best sail ever
- wrong - 2014 is so much better. All the right things has been improved.

Thanks - all the best..

Ha en god dag
Hilsen
Lars W.

Lachlan L.
, AUSTRALIA
Oct 04, 2013
Congratulations Brawz/ Goya - great result, hard work gets results !!

Tom
, Germany
Sep 29, 2013
Hi!

Thanks for your beautiful and strong sails, even one eye could not kill my 2014 banzaii and guru 😉

Aloha from MRU

Tom