2012 Sails
Range
POWERFUL
AND FORGIVING
The 2012 Sails are both a progression from last year and the departure into new territory. The common denominator among all 2012 sails is that they are yet again lighter than ever before, accomplished by replacing about 70% of the panel area on all PRO sails with Scrim and by cutting extra grams of clutter on all sails throughout the range.
Banzai PRO
The biggest news however is of course the birth of the BANZAI, our first four batten wave model. The 2012 Banzai is a low-end focused, power wave and maneuver sail, with quick and constant power delivery. The reduced batten count and super light scrim materials throughout, make the construction utmost light. Stability is achieved through the unique Carbon Fiber Stretch Control System that supports the entire sail body, and the large monofilm window offers incredible visibility. Find out more about the Banzai on its product page.
Guru PRO
The 2012 Guru again offers unbeatable high wind control and comfort, flexible feeling and smooth, forward driving power delivery.
Finger tip handling and and easily neutralized in transitions.
It comes with an Ever Clear window and all scrim and x-ply construction, resulting in incredible strength and light weight, great power and unbeatable high wind control.
Eclipse PRO
The 2012 Eclipse is our world-wide power wave and maneuver sail. Juicy light wind power supply with direct delivery and great high wind control. The Eclipse comes in all x-ply and scrim construction and will last through whatever you take it into. New for 2012 are a much lighter construction weight, resulting in a stronger and lighter feeling on the water, as well as a stronger, more elaborated built. On top the Eclipse now comes with more forward power delivery with improved high end control.
Storm PRO
The 2012 Storm is the sail for kid's high performance windsurfing. The Storm design is based on the Guru concept. Flexible and easy control along with a forward driving power delivery. For 2012 the Storm is again significantly lighter, improving the overall handling characteristics of the sail to make the Storm as easy to ride as possible.
Freesurf ECO
The 2012 Freesurf offers an entry into high performance wave style sailing at an attractive price. Incorporating key features of the premium models, the Freesurf is powerful, light, and easy to handle in a wide variety of conditions. First jibe, first jump, or just blasting along, the Freesurf is pure and simple windsurfing fun.
Nexus ECO
The 2012 Nexusis a No-Cam Freeride & Freerace sail that supplies the maximum of power, speed and control in the Goya Sail range. The Nexusis pure performance. While cut for power, speed and control in all sizes, the focus is on maneuverability in sizes 4.3 to 6.9 and lift and control in sizes 7.5 to 9.0.
Surf ECO
The 2012 Surf is the sail of choice for all instructors, windsurf schools and self-taught adventurers. With it's full dacron panels, reinforced perimeter, integrated mast pad, and indestructible Ever Clear window, it is a sail that will last for years. Lightweight and durable.
A FEW WORDS
ON THE FEATURES
Ultra Light and Strong Scrim
Stronger and lighter. Improved low end performance, improved overall handling and improved durability. A standard feature for all PRO sails.
Poly Clew™ Outhaul System
This new outhaul system provides the option of a longer and higher boom position at the clew for optimized lift and power, or a lower and shorter position for maximized flexibility and maneuverability in the sails. A standard feature for all PRO sails.
Carbon Stretch Control™
Directly linked to the Poly Clew outhaul system, this system of ultra low stretch tendons massively increases the range of the sail by stabilizing the draft position cut in to the sail. This stable draft allows for a full profile that gets you going when the wind is light, and gives
you ultimate control when the wind cranks up. A standard feature for all PRO sails.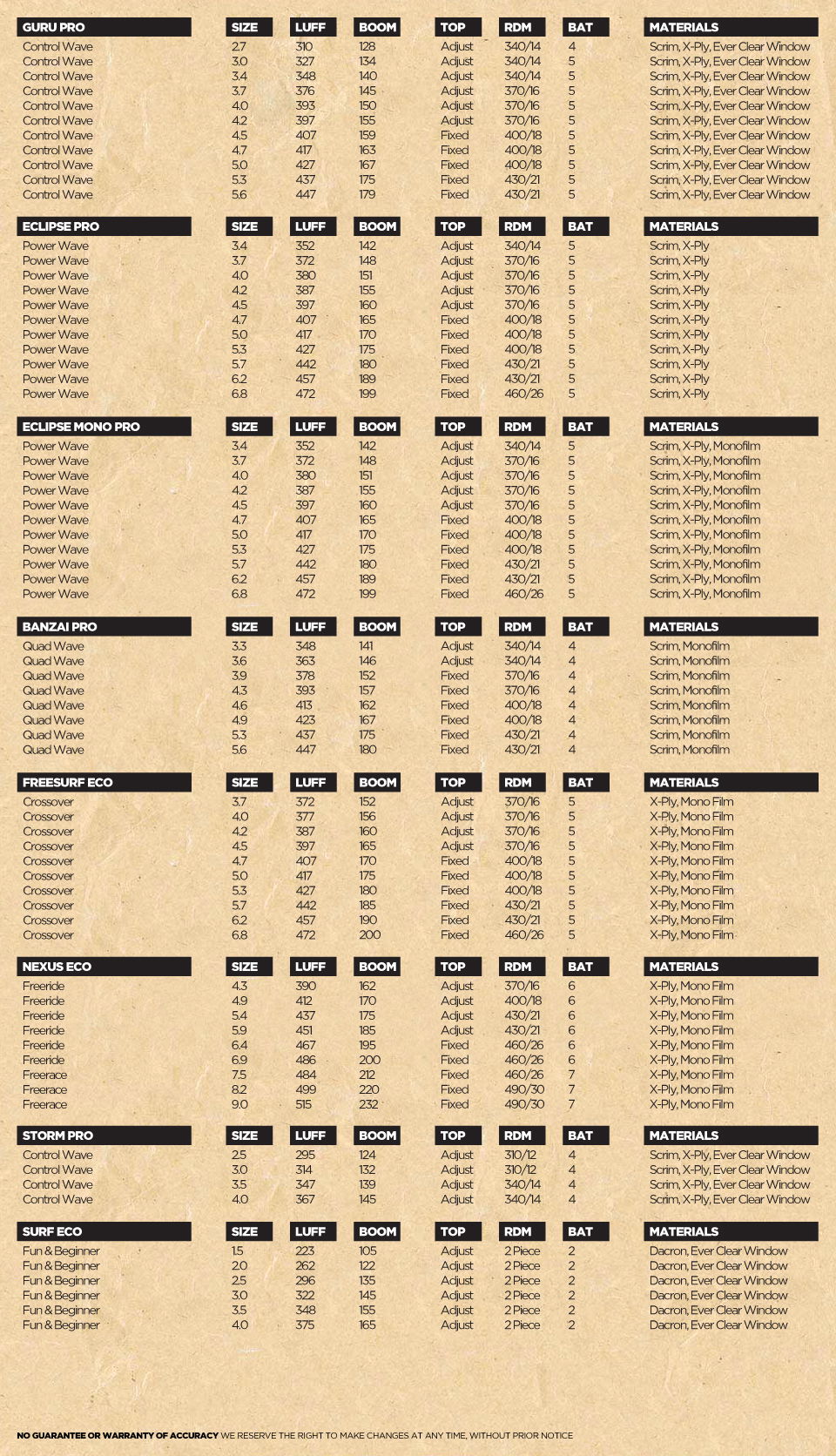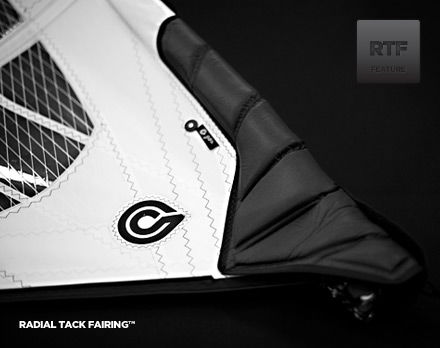 Sails
Features
THE CLASSICS
THE IMPROVEMENTS
Find out what makes our sails stand out beyond the lean shape, cut or proportions. Why do they turn better? Why are they more forgiving? Why are they lighter? Why do they look better? Learn more >