2012 Boards
Range
FORGIVING TO THE
EXTREME
Thank you! That's the first thing we needed to get out. The 2012 Goya boards range is the result of what have been two incredible seasons of positive feedback. It seems like everyone has really been embracing our turn of the decade shapes and has gone the extra mile of sharing their very personal praise and thoughts.
So why then is this year's range more compact? Less diverse? Less but better? Isn't growth the ultimate answer and indicator of success? Well, growth and success have different definitions for everybody it seems. We don't define them by the number of board models we can manage to fit on a double spread advertising. In fact, while the plain number of models has decreased, the range of use has widened. Let's go through the range and find out just how that holds true.
Custom
We'll begin by taking a look at the Custom range. Not only has the entire range been carefully tweaked and fine tuned, but it has also been extended by both a smaller and a bigger size, allowing for smaller riders to master high wind conditions and for bigger riders to take the sheer joy of Quad windsurfing into light wind wave days.
One
The One has undergone the most dramatic change as we have developed it into an evolving series that spans from superbly agile wave boards all the way to bold freerace machines. You might call the One a brand in it's own, but really what it is is board selection made easy. Roughly choose what conditions you're going to be sailing in, pick the volume that suits you and just go sailing. Done. It's really that simple. Why does it work? Because the boards are extremely flexible and forgiving to use. They don't limit you to a single discipline, as boards from the past used to do. These boards are all about sponteneity and creative riding.
Air
What is there to say. The development of this board, frankly was very easy. We decided on the Freestyle volume that everybody seems to end up using, implemented our most professional Freestyle shape and, well, yes, that's it. We hope you can keep up with it, or at least learn to match it's potential eventually. We're still trying.
Surf
The Surf received a number of small updates and improvements for 2012, as well as a fresh look to match the new range, but hey, in the end it simply was, is and will be an instant favorite beginner board.
Progressive Rocker Concept™
As in the past, in 2012 each board comes with an individual rocker tailored for each size and model. This concept creates the most control and quickest reaction on the smaller sized boards, and juices up the larger sizes with all the speed, early planning and power you need for the lighter winds and larger sails. The bottom shapes of our entire range seamlessly blend panel V with concaves to 1/10th of a millimeter CNC accuracy, combining ultimate speed and control. Our Compact Outlines & Volume distribution are precisely foiled in our shaping program. This brings a consistent and smooth flow to our shapes. This smooth flow allows you to feel naturally balanced from the moment you step on to any of our boards.
Direct Drive Constructions™
Lightest weight and strongest construction is what we are after, and they are not extremes. To the contrary, they make our boards forgiving to the extreme, allowing for nimble handling and unsurpassed error correction as well as the mastering of unplanned landings and last second tweaks. Our lay-up system is customized for each size and model and also according to the needs of each section of the board. In all our boards the foot strap & landing areas are built stronger and then we gradually reduce the lay-ups towards the front, giving that super light nose feeling and that reduces the swing motion of the board.
Carbon Impact Monocoque™
Brand new for 2012 is the carbon framework we're implementing into the deck of the PRO wave boards. These boards feature generous carbon patching from in front of the mast track all the way into the tail, extending beneath and around the padded stance areas, connecting the impact dynamics of your body and rig in one rigid monocoque. Making the least claimed boards of the industry even one step better.
Corecell™
The 2012 PRO boards use Corecell™ foam to increase stiffness and reduce the weight of our boards' composite structures. Corecell™ is the leading structural foam core material, and has become widely accepted for the construction of large, high performance structures. It is the latest in foam core technology.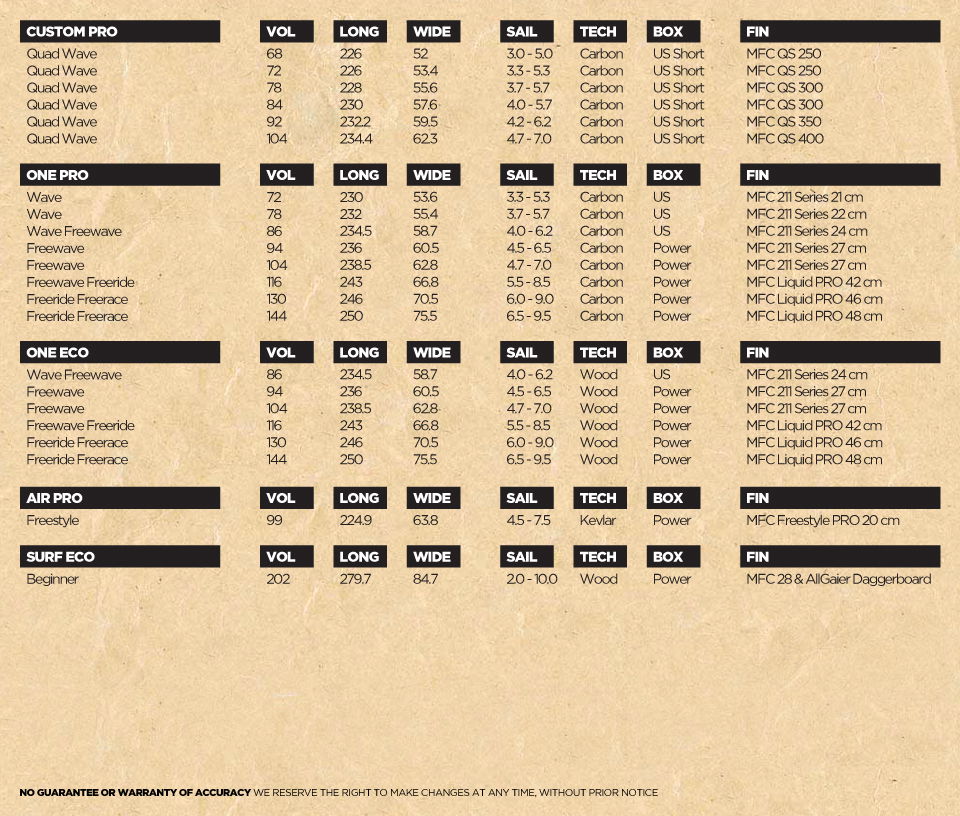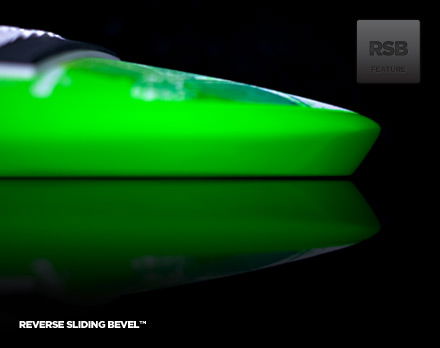 Boards
Features
THE CLASSICS
THE IMPROVEMENTS
Find out what makes our products stand out beyond the lean shape, cut or proportions. Why do they turn better? Why are they more forgiving? Why are they lighter? Why do they look better? Learn more >