The
Range
Professional
and fun
The CNC Progressive Rocker Concept™
The 2010 line is our ultimate progression in CNC shape and design, with individual rockers tailored for each size board, looking for the most control and quickest reaction on the smaller sizes and favoring the larger sizes with all the speed, early planning and power you need for the lighter winds or heavier riders.
The bottom shapes of our entire range seamlessly blend panel V with concaves to 1/10th of a millimeter accuracy- combining the ultimate speed and control in bottom shapes. Our Compact Outlines & Volume distribution are also precisely distributed in our shaping program, bringing a consistent flow and natural balance from the moment you step on to any of our boards.
2010 Constructions
Light weight and strong construction is what we are after, and we just keep on fine tuning it year after year. Our customized lay-up system is tuned up according to the need scenarios of each size board and model. At the foot strap & landing area the reinforcements are more developed and we gradually reduce them towards the front of the board, creating a super light nose feeling, reducing the swing motion. For 2010 there are two constructions available:
Limited Edition PVC is our newest and most advanced construction technique. Read more for each individual board.
Eco Wood is the standard constuction used and trusted by Goya riders worldwide. Read more for each individual board.
We develop our boards based on our day to day sailing experience and the continuous and direct feedback from our customers & riders around the world. We look forward to hear from you.
Have a great windsurfing day
Francisco Goya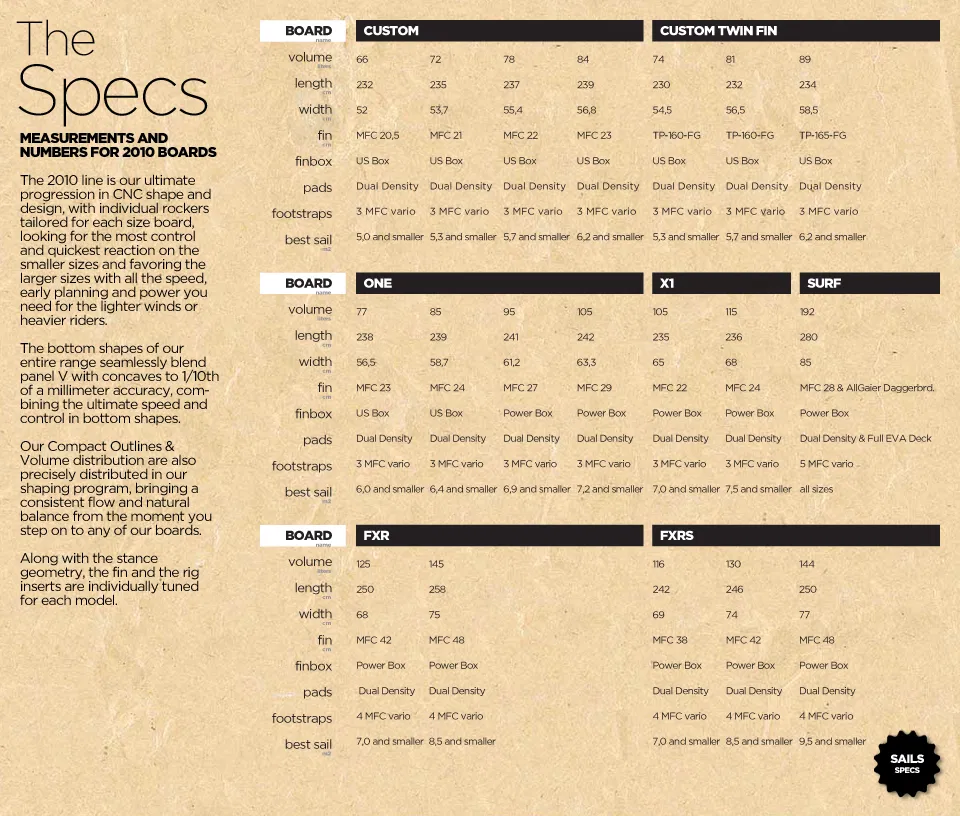 Rich Artwork
METALLIC PRINTING
UNIQUE HANDDRAWN GRAPHIC ELEMENTS
All 2010 Goya boards, regardless of construction, model or price feature very rich artwork. Reflective metallic printing, vibrant colors, unique drawings, sanded decks & bottoms and polished rails are a few of the details that make the range so appealing.

New
Pads
IMPROVED TRACTION
IMPROVED PADDING
Dual Density construction and new anti slip groove pattern inspired by
surfing pads. The all new pads combine better traction and increased
padding for big landings. Heel ventilation is provided by a small
hexagon mesh. Learn more >